The cylinders needed to be transcribed. Over the past 7 years, with the input of Professor Mike Wisland and mechanical engineer Gary Hannah, the method of transcription has evolved over the years to the point that we now have a unique way of transcribing cylinders that is not found anywhere else. Read more information on our transcribing process activities here.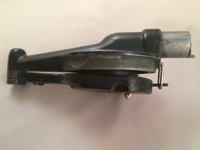 Figure 1. Original Assesmbly
First, to transcribe the cylinders electrically, we remove the original Edison playback assembly (needle and diaphragm), pictued in figure 1, and insert some form of playback device using a modern phonograph needle. Using a Stanton 500 cartridge, we can use a wide variety of needle sizes to optimize the playback of the cylinders. The first device we had seen on the internet was a brass device that fit perfectly into the Edison mounting hole, but with a phono needle mounted directly beneath.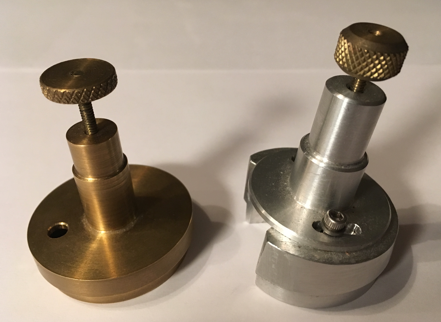 Figure 2. Old and New Playback Devices
The device was made by an unknown inventor sometime in the early 2000's. The item was no longer available, so we borrowed the same device from the Library of Congress and had the device copied, and mounted it into an Edison Amberola 30 player, allowing electric playback. We eventually decided that the contact angle was not optimized, so we decided to modify the playback device to correct the contact angle. Those devices are pictured in figure 2.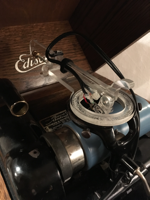 Figure 3. Tonearm Device
After studying the devices we had created, Gary Hannah, a mechanical engineer from Kansas City, decided to approach a playback device from a completely new angle. Truly thinking outside of the circle, Gary engineered a playback device that resembles a tonearm that fits into the original Edison hole. The picture presented here in figure 3 shows how this fits into an Amberola. This allows the tonearm to float considerably more, to allow playback of out-of-round cylinders. It is a very effective device to use to try to correct skips using the first method.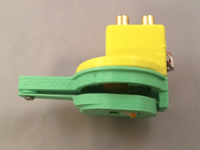 Figure 4. Back to Edison Style
Gary was determined to create an even better transcribing device. If you've ever used an original Edison Amberola to play back cylinders, you know how robust that device is in playing not only out-of-round cylinders, but also its ability to play through skips. So we went back to the original Edison design to create our 4th modification of cylinder playback. Gary carefully made measurement of the original Amerola 30 device, including the original needle and rocker arm, tied to the diaphragm with a string. We simply replaced the diaphragm with an inverted Stanton 500 cartridge, but with no needle since that is no longer necessary. It is now tied to a new needle ground out of an 8 mil saphire rod. Gary then 3-D printed the whole device. Fully assembled, this is how that device looks now.